Regular price
Sale price
£493.99
Unit price
per
Sale
Sold out
CAMERA & COMMUNICATION REIMAGINED
Sena's top-of-the-line 50 series is growing with a long-awaited camera-equipped communication device, the Sena 50C. The 50C is packed with features, including Sena's premium Mesh and Bluetooth communication technology and 4K camera capability. The 50C's all-new SOUND BY Harman Kardon speakers and microphone bring refined audio clarity to your ride...prepare yourself for an unmatched audio/video experience. The 50C's features include:
SOUND BY Harman Kardon Premium Speakers & Microphone
Integrated Mesh & Bluetooth Intercom systems
Integrated 4K Camera
Voice-Activated Digital Assistant Access ("Hey Google"/"Hey Siri")
Voice Commands in 8 Languages
3-Year Warranty
A 4K CAMERA AT YOUR FINGERTIPS ON EVERY RIDE
The 50C packs an integrated camera that is ready to capture any moment along your ride. Shoot video in 4K at 30 frames per second or take 12MP photos in still shot, burst, or time-lapse mode. When shooting in 1080p, the 50C offers electronic image stabilization at 60fps and 30fps. The camera button allows for simple one-touch recording while Voice Prompts keep you updated on the camera's progress. With video tagging, you can save important events from a continuous loop of video recording, instantly creating highlights. As for storage, the 50C accepts MicroSD cards up to 128 GB.

WORLD-CLASS AUDIO QUALITY
The 50C offers an unprecedented audio experience with SOUND BY Harman Kardon. Both the speakers and microphone were created with the audio experts at Harman Kardon to provide world-class sound inside your motorcycle helmet. An all new microphone, which includes a newly designed sensor, offers robust performance for voice communication while riding. These premium SOUND BY Harman Kardon audio elements combine to help elevate the 50C to the ultimate Audio / Visual tool for all riders.
MESH & BLUETOOTH INTERCOM, CONNECT TO ANY OTHER SENA HEADSET
The 50C conveniently offers both Mesh and Bluetooth Intercom platforms, allowing users to connect with any Sena headset for rider-to-rider communication. Mesh Intercom provides robust, reliable connections and flexible intercom message routing with significant enhancements to Sena's Mesh algorithm. Mesh offers unprecedented intercom audio quality and houses two Mesh settings, Multi-Channel Open Mesh Intercom™ and Group Mesh Intercom™.
Multi-Channel Open Mesh Intercom (Open Mesh) features the industry's first Mesh Intercom™ channel system. Like standard handheld or CB radios, Mesh allows users to switch between nine different channels when operating in Open Mesh mode. Open Mesh boasts the single push of a button to click-to-connect to the Mesh intercom network. Open Mesh supports a near-limitless number of users within a range of up to 5 miles / 8 km (min. 6 riders @ 1 mi / 1.6 km intervals).
For a private group conversation, 50C users can use Group Mesh Intercom mode. Group Mesh supports a private group of up to 24 participants and the same range as Open Mesh. To ensure privacy, only invited users can join the Group Mesh chat.
Traditional four-way Bluetooth Intercom mode is also an option for connecting the 50C to other Sena Bluetooth-enabled users within a 1-mile range. When connected to just one other Sena Bluetooth headset, 50C users will experience HD intercom quality. Additionally, users can pair with a Sena Bluetooth Intercom user and 'bridge' them into a Mesh 2.0 intercom conversation.
VOICE COMMANDS ALLOW RIDERS TO FOCUS ON THE ROAD
Voice commands allow riders to speak directly to their 50C while keeping their hands safely on the handlebars. Take control of the 50C's functions, like answering the phone or starting a Group Mesh session. The 50C supports voice commands in 8 languages, including English, French, German, Spanish, Italian, Chinese, Japanese, and Russian.


Digital assistant access allows the 50C to connect to Google Assistant and Apple's Siri with a simple voice command enabling you to tap into your smartphone's features, including GPS navigation, music playback, voice dialing, and more. All you need to do is ask: "Hey Siri" or "Hey Google"! Looking for some entertainment on a long ride? "Hey Siri, play me a podcast."
TAKE CONTROL WITH THE SENA MOTORCYCLES APP & CAMERA APP
The new Sena Motorcycles App gives users a way to configure the 50C's device settings visually. Download the app to customize different settings and features on the 50C, including managing channel settings for Open Mesh remotely or setting up a private group for Group Mesh.

With the Sena Camera App, users can preview and download the footage being shot on their 50C directly on their smartphone via built-in WiFi. The Camera App also allows you to fine-tune camera settings such as video recording mode and resolution, video microphone gain, and speaker sound recording.

Head to the App Store or Google Play store to download the Sena Motorcycles App and Sena Camera App.
Download Instructions Manual here.
Share
View full details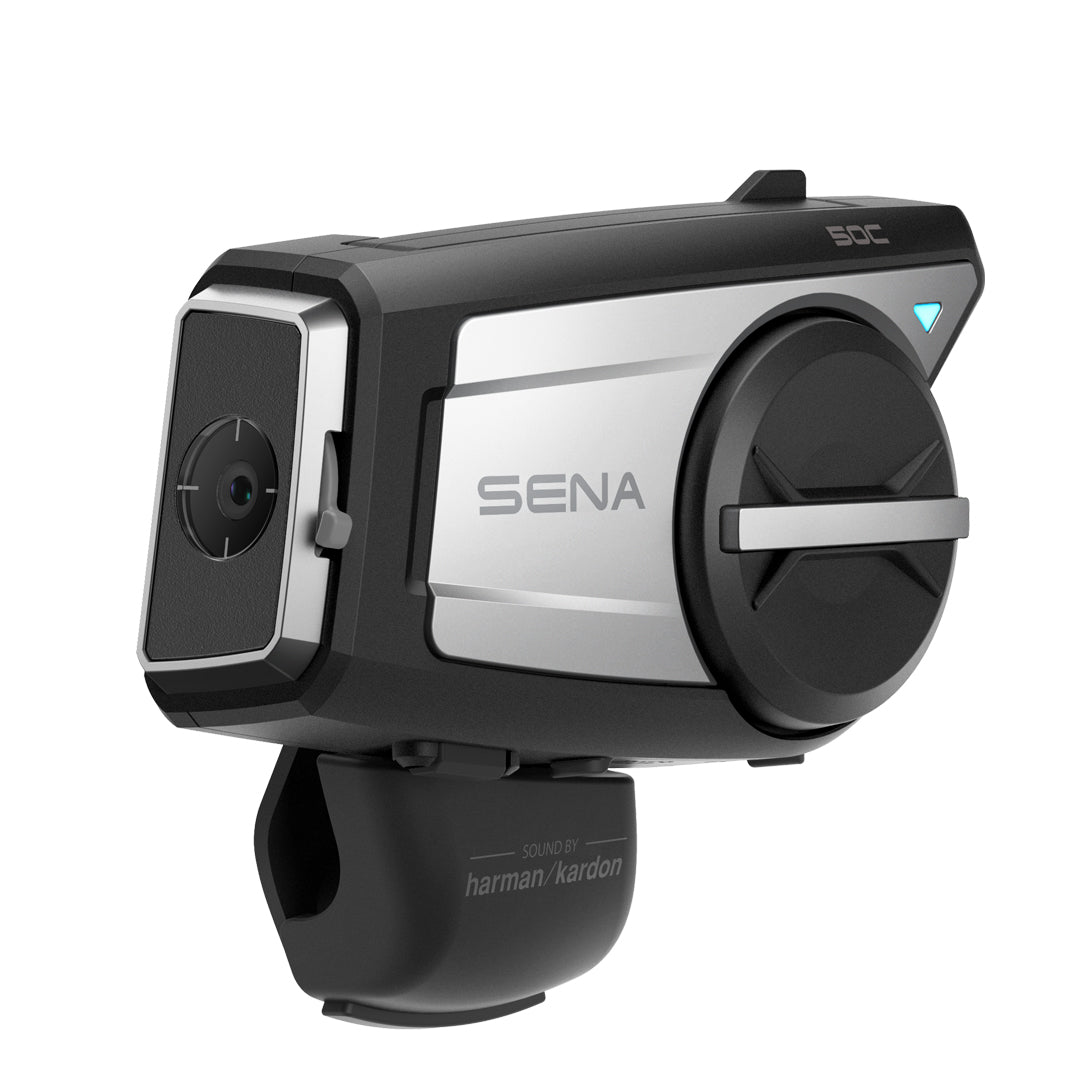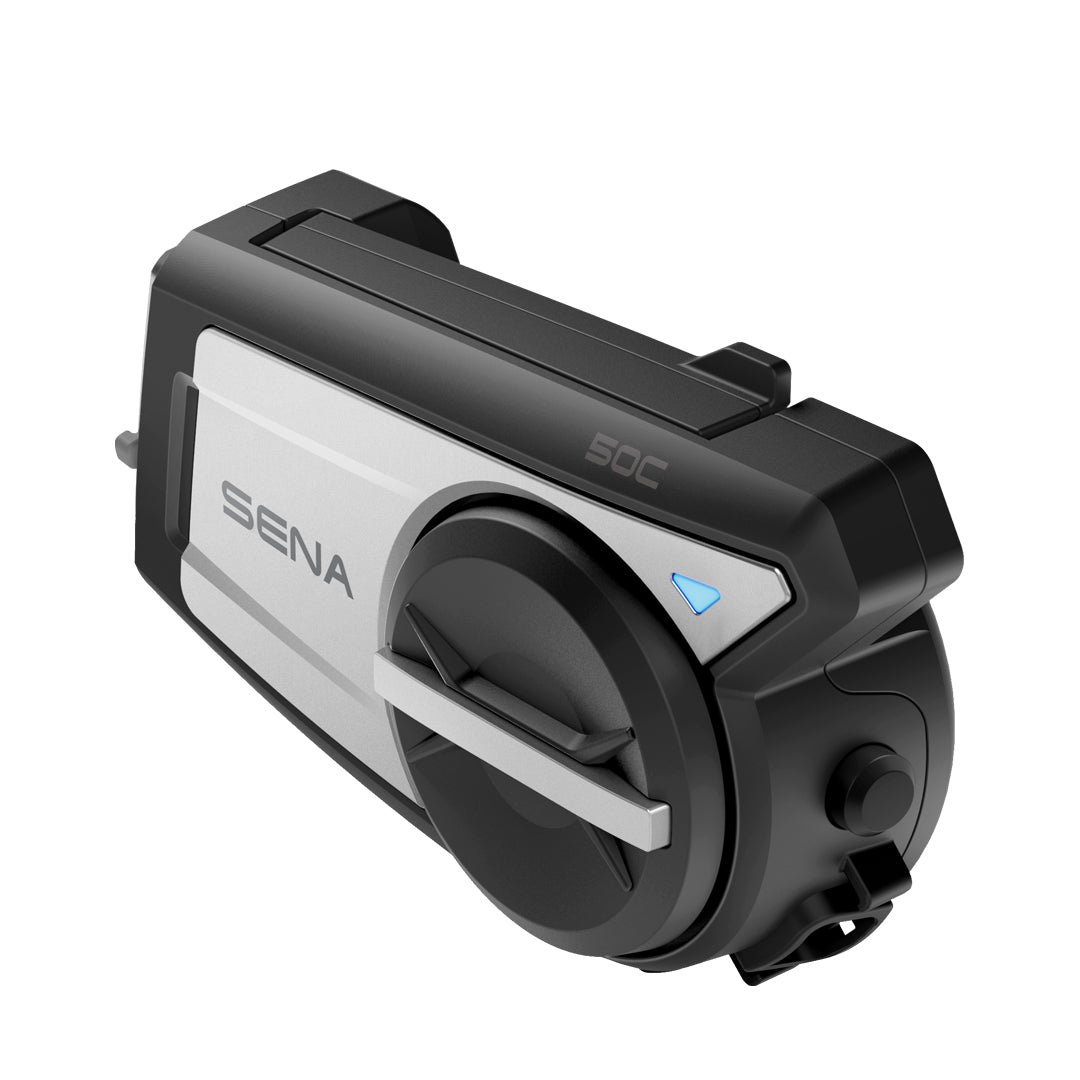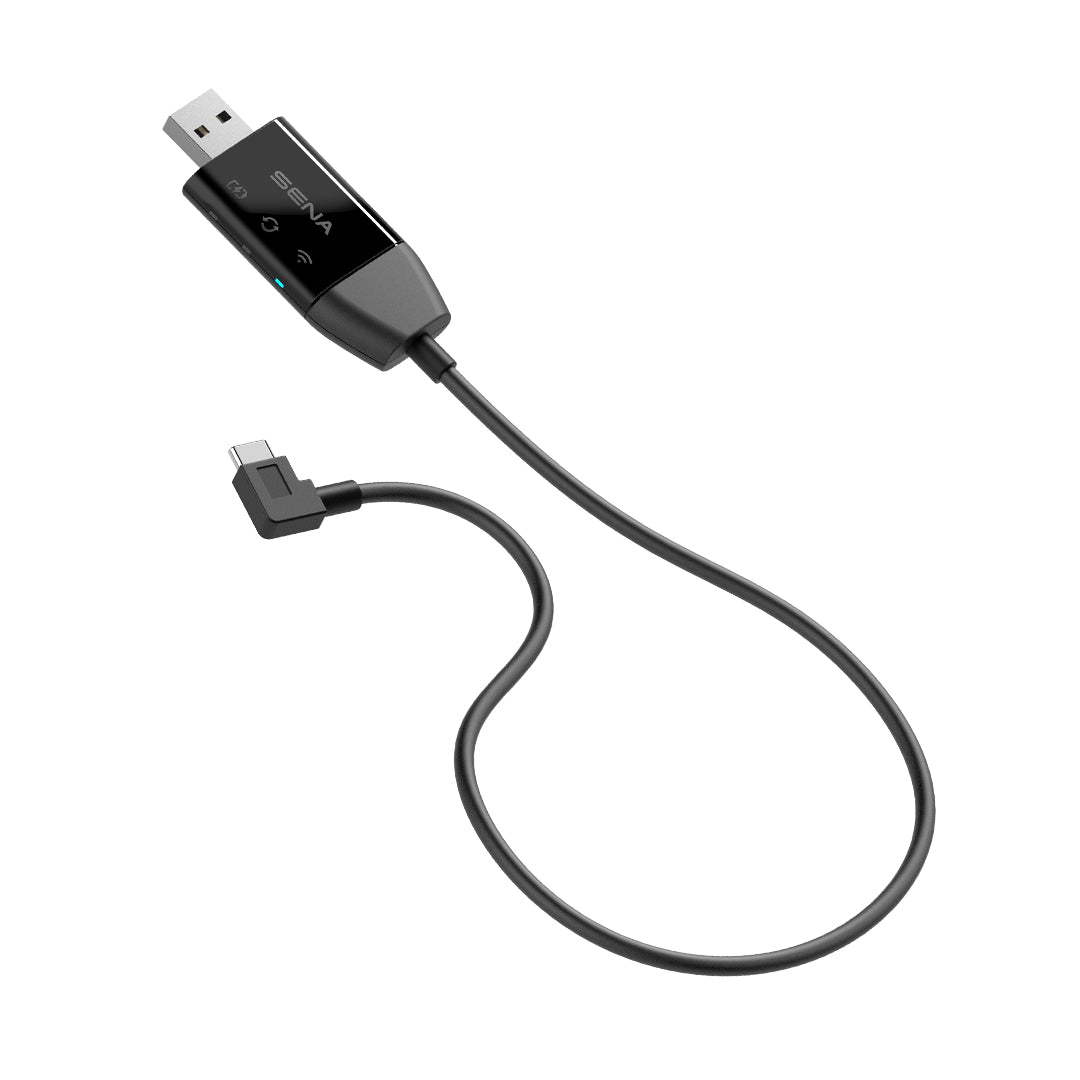 Collapsible content
Intercom Technology

MESH NETWORK
Mesh Intercom™ Technology

WIFI
IEEE 802.11 b/g/n/a
Working distance: within 15 meters

BLUETOOTH
Bluetooth 5
Headset Profile (HSP)
Hands-Free Profile (HFP)
Advanced Audio Distribution Profile (A2DP)
Audio Video Remote Control Profile (AVRCP)
Intercom Parameters

INTERCOM
Working Distance:
Bluetooth Intercom: up to 1.6 kilometers (1.0 mile) in open terrain
Mesh Intercom: up to 2 km (1.2 miles)* in open terrain
*Can extend up to 8.0 km (5.0 miles) between a minimum of 6 riders

Supports up to:
Bluetooth Intercom: 4 riders
Open Mesh Intercom: virtually limitless
Group Mesh Intercom: 24 riders

Supports Channels:
Open Mesh Intercom: 9 channels
Audio Specs

AUDIO
Noise Cancellation: Advanced Noise Control™
Codec: Built-in SBC Codec
FM Radio:
Radio frequency specifications: 76 ~ 108MHz
10 preset station memory
HD Voice enabled for high-quality phone call audio
Premium Speakers & Microphone with SOUND BY Harman Kardon
Battery Specs

BATTERY
Talk time:
Bluetooth intercom: 22 hours
Mesh intercom: 12 hours
Charging Time: 2.5 hours
Built-in 1,450 mAh Lithium polymer battery
Product Specs

GENERAL
Operating temperature: -10˚C - 50˚C (14°F - 122°F)
Dimensions:
Main module: 95 mm x 59 mm x 31 mm (3.7 in x 2.3 in x 1.2 in)
Speaker driver unit: 36 mm – thickness 6.5 mm
Boom microphone: length 190 mm
Wire between speakers: length 555 mm
Weight: Module: 90 g (3.17 oz)

VIDEO
2160p: 30fps (Ultra HD)
1440p: 30fps (Quad HD)
1080p: 60fps (Full HD)
1080p: 30fps (Full HD)
1080p: 60fps (Full HD) + EIS
1080p: 30fps (Full HD) + EIS
Video recording time: 1 hour 40 minutes
Video file format: MP4 (H.264)
Max video bit rate: 60 Mb/s (4K)

OPTICAL
Field of view: 120 degrees
Aperture f/2.4
Lens rotation: 30 degrees

PHOTO
12MP (4:3)
Burst shot: 8 pics per second

TIME-LAPSE MODE
Single shot every 1 sec or every 2, 5 or 10 secs