Regular price
Sale price
£333.00
Unit price
per
Sale
Sold out
SETTING THE NEW STANDARD
The 50R packs Sena's advanced Mesh technology and premium SOUND BY Harman Kardon into a low-profile, sleek yet rugged design. Tested and proven by over 100 competitors and staff across the wilds of New Zealand during the Int. GS Trophy 2020, the 50R continues Sena's long tradition of Advancing Adventure. With its powerful audio capability, rugged durability, and next-level technology, the form and function of the 50R combine to set a new standard for motorcycle communication.
Premium Speakers & Microphone with SOUND BY Harman Kardon
Mesh Intercom™, Robust Reliability
Multi-channel protocol in Open Mesh allows users to switch between 9 comm channels
Bluetooth® 5 enabled
Convenience of voice-activated digital assistant access ("Hey Google"/"Hey Siri")
30% faster Rapid-Charging
Included WiFi Adapter which charges AND installs firmware updates automatically
An elegant, glove-friendly three-button interface
Voice Commands recognized across 8 languages
3-year Warranty
Stress tested and proven by over 100 global ADV riders during the Int. GS Trophy 2020
Now with the latest MESH technology, with even more robust and reliable connections.
PREMIUM / POWERED / AUDIO
The 50R now offers an even more impressive audio performance with SOUND BY Harman Kardon. Both the speakers and microphone were created with the audio experts at Harman Kardon to provide world-class sound for one of Sena's top communication devices. Expertly crafted speakers and an all-new microphone allow the 50R to provide an unmatched audio experience in your helmet. The speakers send crystal clear audio to riders' ears while the microphone, with a newly designed sensor, provides robust performance for voice communication while riding.
MESH REDEFINED
Sena's proprietary Mesh Intercom™ delivers a robust level of reliable intercom connections and intelligent routing management to an adaptive and autonomous communication network. The innovative system of prompts and responses between Sena's Mesh headsets has resulted in a staggering increase of 80% more data being transferred across harsh and challenging conditions, providing superior intercom audio quality with a rock-solid connection. Additionally, information sharing between connected devices is happening in real-time at mind-boggling speeds, allowing Sena's Mesh technology to instantly assess the optimal path for delivering messages to all participants in the network.
Proven in the most demanding scenarios, Mesh Intercom™ brings an unprecedented level of robust reliability to Sena's flagship rider intercoms. #RIDECONNECTED like never before.
ONE UNIT. THREE INTERCOM MODES.
The 50R features three different intercom modes: Group Mesh Intercom, Multi-Channel Open Mesh Intercom, and Bluetooth Intercom.
With Group Mesh, you'll create a single, private group that supports up to 24 participants over a range of up to 5 miles / 8 km (min 6 riders @ 1 mi / 1.6 km intervals)! Users are invited into Group Mesh, giving added control and privacy.
Multi-Channel Open Mesh lets you communicate with virtually anyone participating in the Mesh network within a range of up to 5 miles / 8 km. Open Mesh also features multi-channel options, an industry-first! With nine channels available, you can switch to a new frequency for conversations with different riding groups within the larger Open Mesh group.
Finally, traditional Bluetooth Intercom mode rounds out the third communication option included. All riders and their ever-changing riding scenarios will surely benefit from the incredible flexibility and technology engineered into the 50R Mesh and Bluetooth intercom modes.
ENHANCED VOICE COMMANDS FOR ENHANCED CONTROL
Take control of the 50R without lifting a finger. Voice commands give you hands-free control of the 50R, operating select functions, including entering Open Mesh or answering a phone call. Simply say a command, and the 50R will act for you. The 50R supports multi-language voice commands, responding to eight different languages, including English, French, German, Spanish, Italian, Chinese, Japanese, and Russian.

The most powerful upgrade to the 50R voice commands is the new direct, hands-free access to Google or Siri through your smartphone! "Hey Siri, directions to the nearest hotel, please!" "Hey Google, what's the weather forecast for Sturgis today?" No buttons, no other preliminary commands. The 50R connects to everything Google Assistant and Apple's Siri have to offer...all while you're rolling down the highway! Access phone numbers, music apps, or even ask for directions to the world's largest ball of twine (it's in Cawker City, KS by the way)! Riding Connected couldn't be easier.
RAPIDLY CHARGED AND AUTOMATICALLY UPDATED
50R power running low? With its new high-density battery and the technical improvements to the Fast Charging feature, the 50R will charge 30% faster than previous Fast Charge units! Plug it in for just 20 minutes, and you'll get 3.5 hours of Mesh Intercom™ or 6 hours of Bluetooth intercom operation. A full charge of the unit happens in just an hour and provides 8 hours of Mesh communication or 13 hours of Bluetooth intercom talk time! The included
WiFi Adapter
 serves double-duty, charging your 50R and also providing automatic firmware updates via your wireless network. It's never been easier to upload all the latest firmware updates to your Sena headset!
MORE CONTROL WITH THE SENA MOTORCYCLES APP
The new Sena Motorcycles App gives users a way to visually configure many of the 50R'S device settings. Download the app to customize device settings and features on the 50R, including the ability to remotely manage channel settings for Open Mesh, or even set a private group for Group Mesh. Download the Sena Motorcycles App in the App Store or Google Play store.
Share
View full details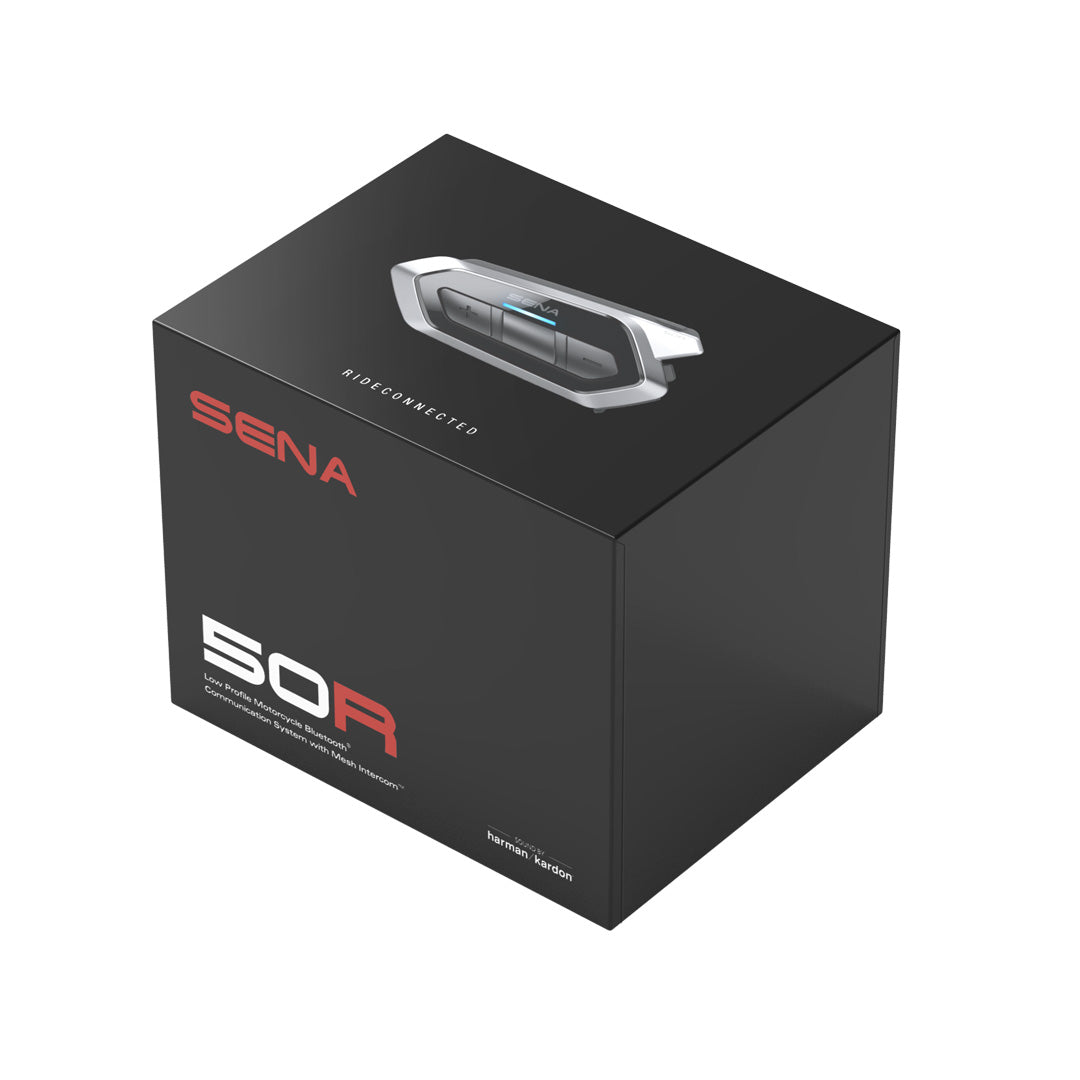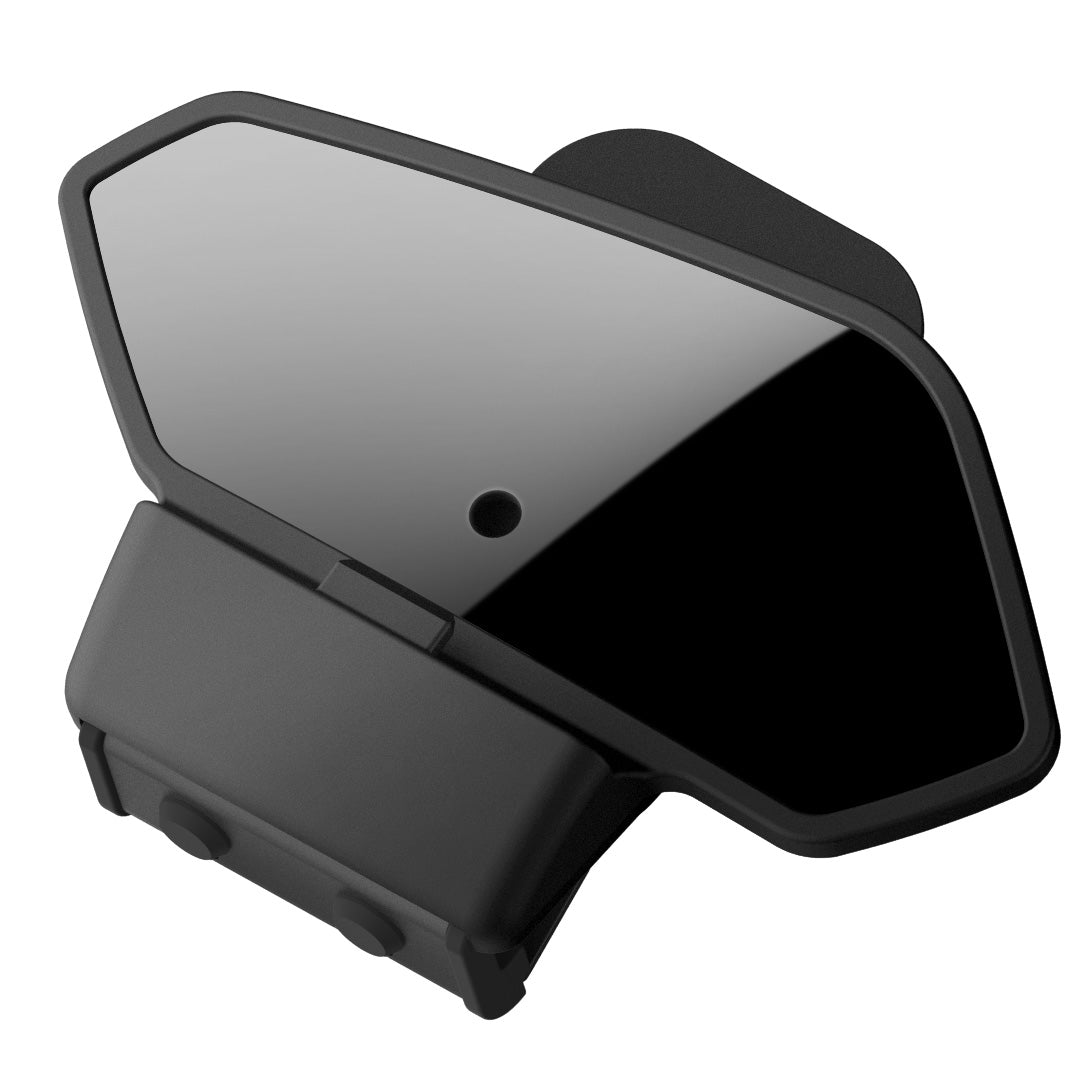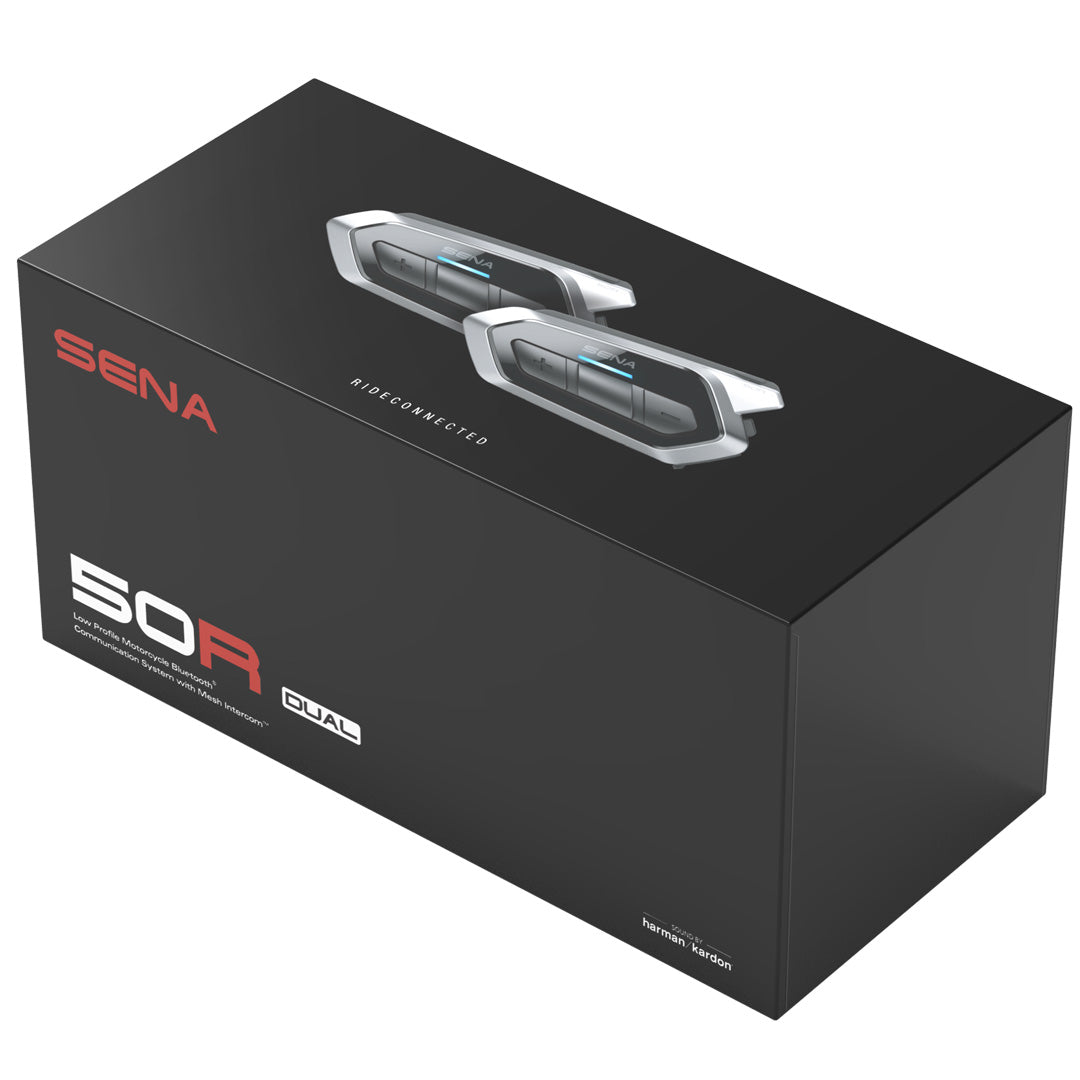 Collapsible content
Intercom Technology

MESH NETWORK
Mesh Intercom™ Technology

BLUETOOTH
Bluetooth 5.0
Headset Profile (HSP)
Hands-Free Profile (HFP)
Advanced Audio Distribution Profile (A2DP)
Audio Video Remote Control Profile (AVRCP)
Intercom Parameters

INTERCOM

Working Distance:
Bluetooth Intercom: up to 2 km (1.2 miles) in open terrain
Mesh Intercom: up to 2 km (1.2 miles)* in open terrain
*Can extend up to 8 km (5 miles) between a minimum of 6 riders

Supports up to:
Bluetooth Intercom: 4 riders
Open Mesh Intercom: virtually limitless
Group Mesh Intercom : 24 riders

Supports Channels:
Open Mesh Intercom: 9 channels
Audio Specs

AUDIO

Noise Cancellation: Advanced Noise Control™
Codec: Built-in SBC Codec

FM Radio:
Radio frequency specifications: 76 ~ 108MHz
10 preset station memory

Premium Speakers & Microphone with SOUND BY Harman Kardon
Battery Specs

BATTERY

Talk time:
Bluetooth intercom: up to 13 hours
Mesh intercom: up to 8 hours

Charging time: 1 hour
Fast Charge: 20 minutes of charging equals 6 hours Bluetooth intercom or 3.5 hours Mesh Intercom

Type: Lithium Polymer Battery
Product Specs

GENERAL

Dimensions:
Main module: 97 mm x 48 mm x 27mm (3.8 in x 1.8 in x 1.0 in)
Speaker Driver Unit: 40 mm – thickness - 7.2 mm
Boom microphone: length - 150 mm
Wire between speakers: length - 555 mm
Weight: main module - 65 g (2.29 oz)
Operating temperature: -10°C - 55°C (14°F - 131°F)
Charging temperature: 0˚C – 45˚C (32°F – 113°F)

CERTIFICATES

CE, FCC, IC