Regular price
Sale price
£333.00
Unit price
per
Sale
Sold out
PREMIUM COMMUNICATION MEETS WORLD-CLASS AUDIO
The 50S offers an all-new experience of Riding Connected, now with SOUND BY Harman Kardon. The 50S features Sena's Mesh Intercom™ which brings significant advancements to motorcycle communication. With an exceptional communication network and finely-tuned speakers and microphone, the 50S continues the goal of keeping riders connected on their journey.

Premium Speakers & Microphone with SOUND BY Harman Kardon
One-Click-to-Connect Mesh Intercom™, Robust Reliability
Bluetooth® 5 enabled
Voice-activated digital assistant access ("Hey Google"/"Hey Siri")
30% faster rapid charging
Automatic firmware updates via the included WiFi Adapter
A tried-and-true glove-friendly jog dial design
3-year Warranty
Now with the latest MESH technology, with even more robust and reliable connections.
PREMIUM / POWERED / AUDIO
The 50S now offers an even more premium audio experience with SOUND BY Harman Kardon. Both the speakers and microphone were created with the audio experts at Harman Kardon to provide world-class sound for one of Sena's most popular devices. Expertly crafted speakers and an all-new microphone allow the 50S to deliver an unmatched audio experience. The speakers send crystal clear audio to riders' ears while the microphone, with a newly designed sensor, provides robust performance for voice communication while riding.
MESH: THE NEW STANDARD
The 50S' Mesh technology brings a new level of robust, reliable connections and smart, flexible intercom message routing thanks to significant technical enhancements made to the original Sena Mesh Intercom™ algorithm. Sena's 50S units actively share information between each other within the Mesh network at an astounding rate. An ingenious system of prompts and responses between the Mesh units has resulted in 80% more data being transferred across challenging and harsh conditions. Furthermore, Mesh units quickly determine the ideal pathway to efficiently transmit messages from rider to rider.


Sena's Mesh technology offers an unprecedented level of intercom audio quality and robust connectivity for all Sena Mesh Intercom™ users. Tested and proven in the most demanding situations, Sena's Mesh network keeps the communication lines with your riding partners clear and stable.
MULTI-CHANNEL COMMUNICATION & PRIVATE CONVERSATIONS
The 50S delivers not one, but three different intercom modes available to Sena riders: Multi-Channel Open Mesh Intercom™, Group Mesh Intercom™, and Bluetooth Intercom.


Multi-Channel Open Mesh Intercom (Open Mesh) features the industry's first Mesh Intercom™ channel system. Similar to standard handheld or CB radios, the 50S allows users to switch between nine different channels when operating in Open Mesh mode. Open Mesh offers a single push of a button to click-to-connect to the Mesh Intercom™ network. It also supports a near-limitless number of users within a range of up to 5 miles / 8 km (min. 6 riders @ 1 mi / 1.6 km intervals). With this ease of connecting, huge user capacity, incredible range, AND the inclusion of the nine-channel feature, the 50S Open Mesh Intercom mode is sure to be a game-changer for large group/club rides.

If you prefer a private group conversation, simply switch to Group Mesh Intercom mode. Group Mesh supports a single, private group for up to 24 participants and the same amazing range as Open Mesh. To ensure privacy, only invited users can join the Group Mesh chat. Whichever of the two Mesh Intercom™ modes you choose, you'll enjoy the robust reliability engineered into Sena's Mesh network.

Traditional four-way Bluetooth Intercom mode continues to be an option for connecting other Sena Bluetooth-enabled users within a 1.2-mile range. Additionally, 50S users can pair with a Sena Bluetooth Intercom user and 'bridge' them into a Mesh Intercom™ conversation.
TAKE CONTROL WITH VOICE COMMANDS
There's no need to lift a finger when you can ask the 50S to handle it. Voice commands give you control of Sena's 50S system functions, such as answering the phone or starting up a Group Mesh session. The 50S supports these system voice commands across eight languages, including English, French, German, Spanish, Italian, Chinese, Japanese, and Russian!


But what if you're running low on gas? "Hey Google, please give me directions to the nearest gas station." The 50S can connect to Google Assistant and Apple's Siri with just a simple voice command allowing you to tap into the power of your smartphone's features, including GPS navigation, music playback, voice dialing, or a myriad of other options. Wondering where the nearest BBQ joint is? Need to find a hotel for the night? Want to listen to your favorite band? Whatever it is, all you need to do is ask: "Hey Siri" or "Hey Google"! THIS is how to #RIDECONNECTED
AUTOMATIC UPDATES WITH THE SENA WIFI ADAPTER
The included Sena WiFi Adapter handles your charging needs AND can also be programmed to automatically install any available firmware updates to your 50S via your wireless network! Connect the adapter to your WiFi network, and after a one-time setup, it's programmed to detect and install updates when the headset is connected. It's never been easier to keep your Sena headset up to date! The 50S provides up to 12 hours of Mesh intercom talk time or 11 hours of Bluetooth intercom talk time.
CONTROL AT YOUR FINGERTIPS WITH THE SENA MOTORCYCLES APP
The new Sena Motorcycles App gives users a way to visually configure the 50S' device settings. Download the app to customize a variety of settings and features on the 50S, including the ability to remotely manage channel settings for Open Mesh, or even set a private group for Group Mesh. Download the Sena Motorcycles App in the App Store or Google Play store.
Download Instructions Manual here.
Share
View full details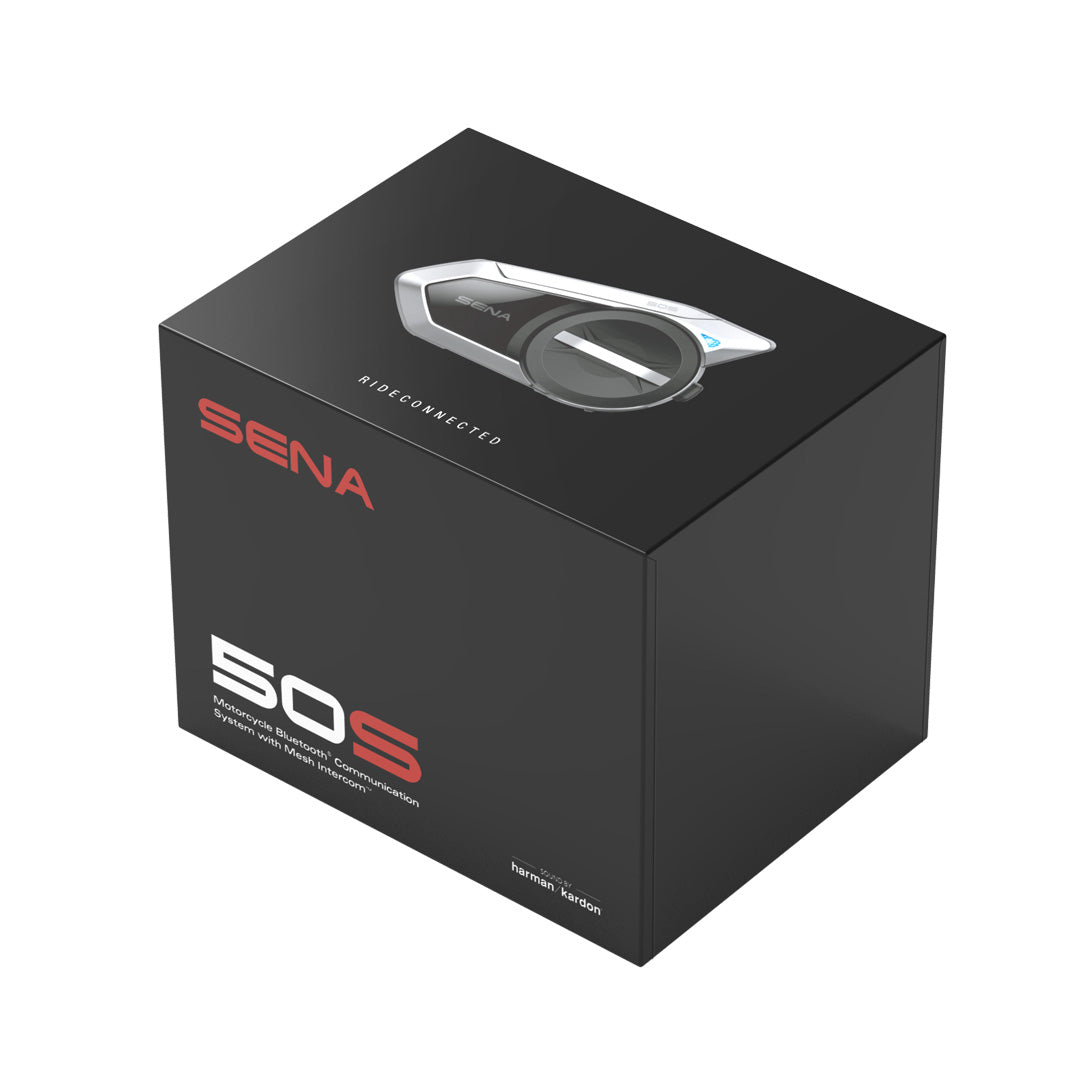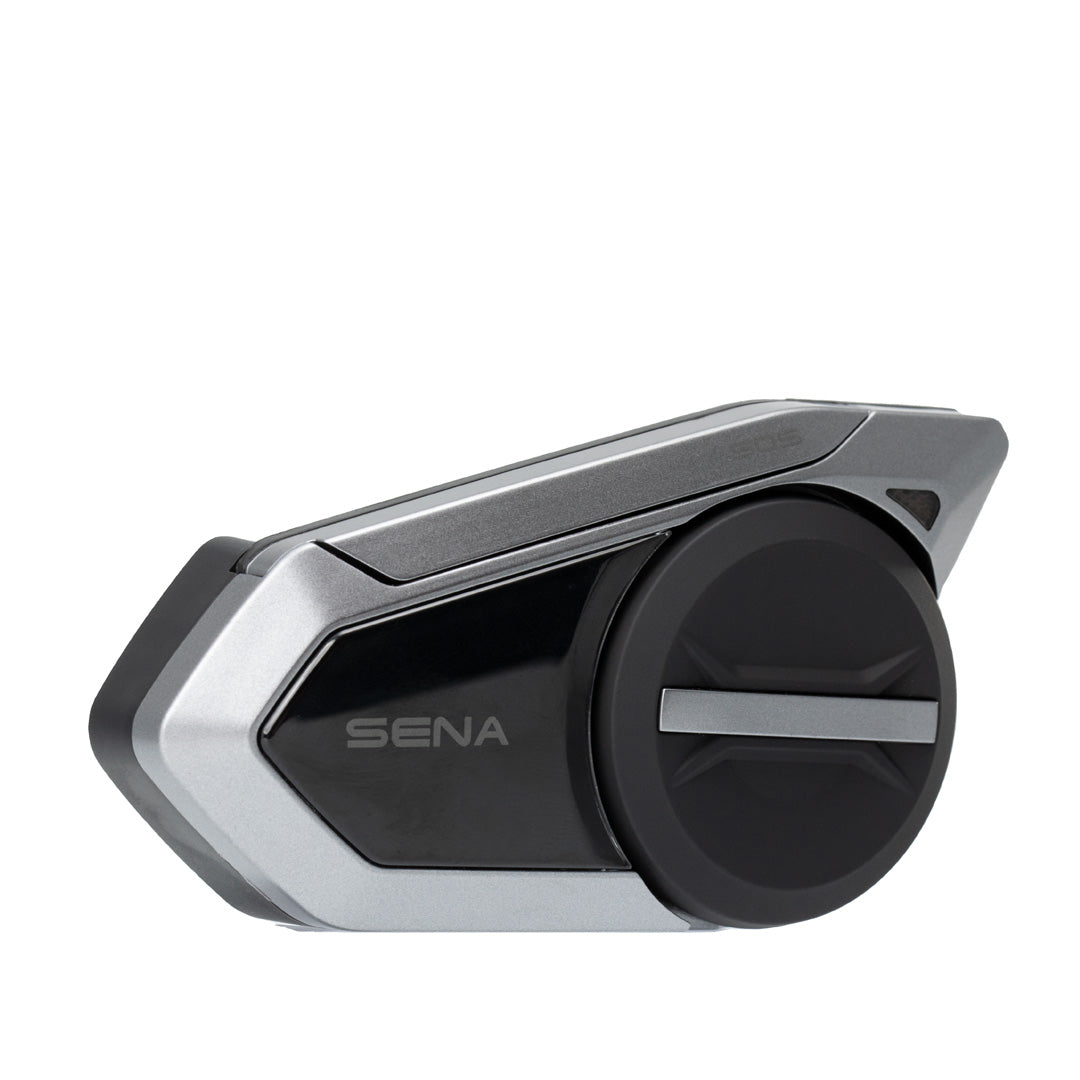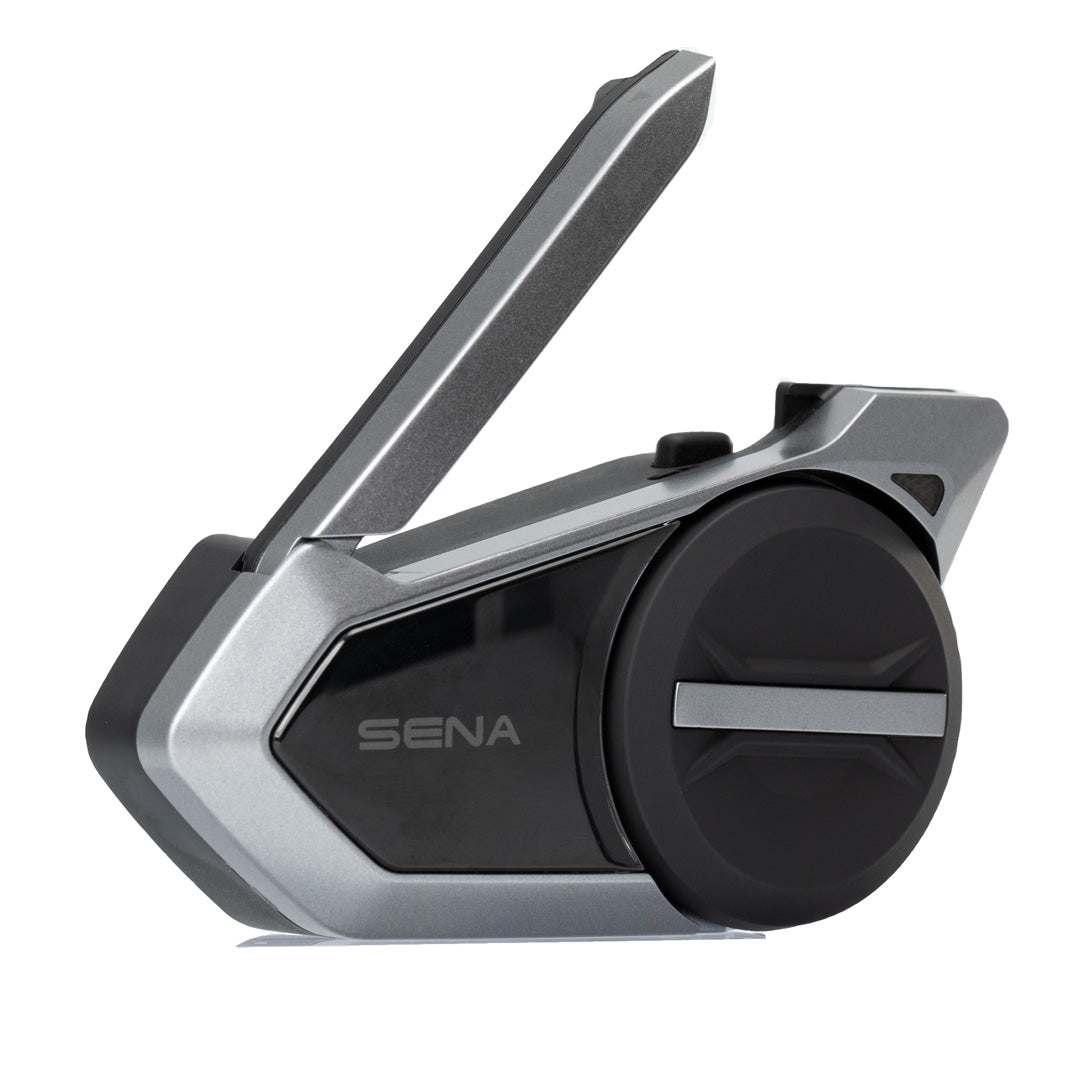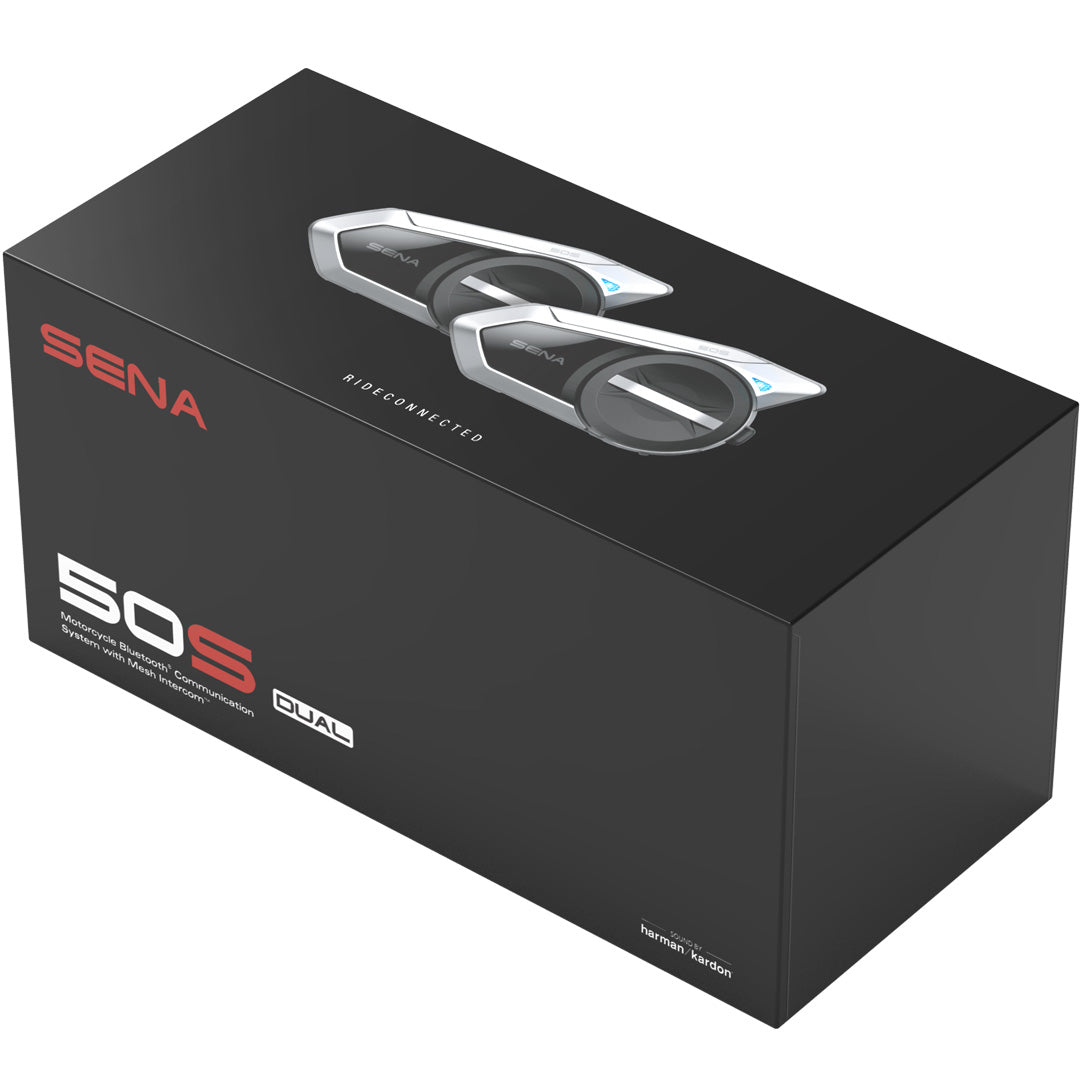 Collapsible content
Intercom Technology

MESH NETWORK
Mesh Intercom™ Technology

BLUETOOTH
Bluetooth 5.0
Headset Profile (HSP)
Hands-Free Profile (HFP)
Advanced Audio Distribution Profile (A2DP)
Audio Video Remote Control Profile (AVRCP)
Intercom Parameters

INTERCOM

Working Distance:
Bluetooth Intercom: up to 2 km (1.2 miles) in open terrain
Mesh Intercom: up to 2 km (1.2 miles)* in open terrain
*Can extend up to 8 km (5 miles) between a minimum of 6 riders

Supports up to:
Bluetooth Intercom: 4 riders
Open Mesh Intercom: virtually limitless
Group Mesh Intercom: 24 riders
Supports Channels:
Open Mesh Intercom: 9 channels

Audio Specs

AUDIO

Noise Cancellation: Advanced Noise Control™
Codec: Built-in SBC Codec

FM Radio:
Radio frequency specifications: 76 ~ 108MHz
10 preset station memory

Premium Speakers & Microphone with SOUND BY Harman Kardon
Battery Specs

BATTERY

Talk time:
Bluetooth intercom: up to 12 hours
Mesh intercom: up to 11 hours

Charging time: 2.5 hours
Type: Lithium Polymer Battery
Product Specs

GENERAL

Dimensions:
Main module: 102 mm x 56 mm x 27 mm (4.0 in x 2.2 in x 1.1 in)
Speaker Driver Unit: 40 mm – thickness - 7.2 mm
Boom microphone: length - 190 mm
Wire between speakers: length - 555 mm
Weight: main module - 64 g (2.26 oz)
Operating temperature: -10°C - 55°C (14°F - 131°F)
Charging temperature: 0˚C – 45˚C (32°F – 113°F)

CERTIFICATES
CE, FCC, IC